I love flying at Sunrise!
As Hurricane Creekkeeper, part of my job is to conduct aerial surveillance in the Hurricane Creek watershed. I do this with the help of SouthWings. My pilot this past week was Dick McGlaughlin. SouthWings is an organization of volunteer pilots like Dick who help us check out potential pollution sources from the air.
We found plenty of the ugly stuff but can't comment on them yet due to ongoing actions. Sooooo, I want to share with you some of the highlights of the flight. Some pretty, some, not so much.
It was a beautiful morning to be flying into the Tuscaloosa sunrise. With the sun just peeking out of the clouds we could see a light fog rising from the mountain tops all the way to Jefferson Co.
As we closed in on the mouth of Hurricane Creek the sun was up enough to see the creek as it enters the Black Warrior River. With no recent rains it was clear as a bell. Quite a contrast to some flights I have taken before.
This is the same location taken on a flight with Nelson Brooke, Black Warrior Riverkeeper on Jan 09, 2008. This was after a rain even of about 3/4 inch over several hours.
The source was poorly designed subdivisions and a failure of both local and state agencies to enforce the law. Photos like these have made a huge difference in how subdivisions now address stormwater measures. We see less of this now but still must remain vigilant to keep it that way.
We flew up the creek for a while to survey the progress on clearing the creek and campgrounds at Watson's Bend. After the tornado we had literally hundreds of trees in the creek along with over 2 tons of scrap metal blown in from the surrounding community.
05/11/11
10/06/12
This was just after the heart of the tornado went right across the campground.
This is 18 months later. No major tree wrecks remain. Some has been cut into lumber using the portable sawmill in the lower shed seen in the center. Some has been chipped into mulch using the donated Altec chipper and used as playground padding as well as garden much throughout the county. None of our trees are going to a landfill or be wasted.
Some beautiful art works have been created by reclaiming branches and stumps. This is one by Maurice Clabaugh called Splendor Restored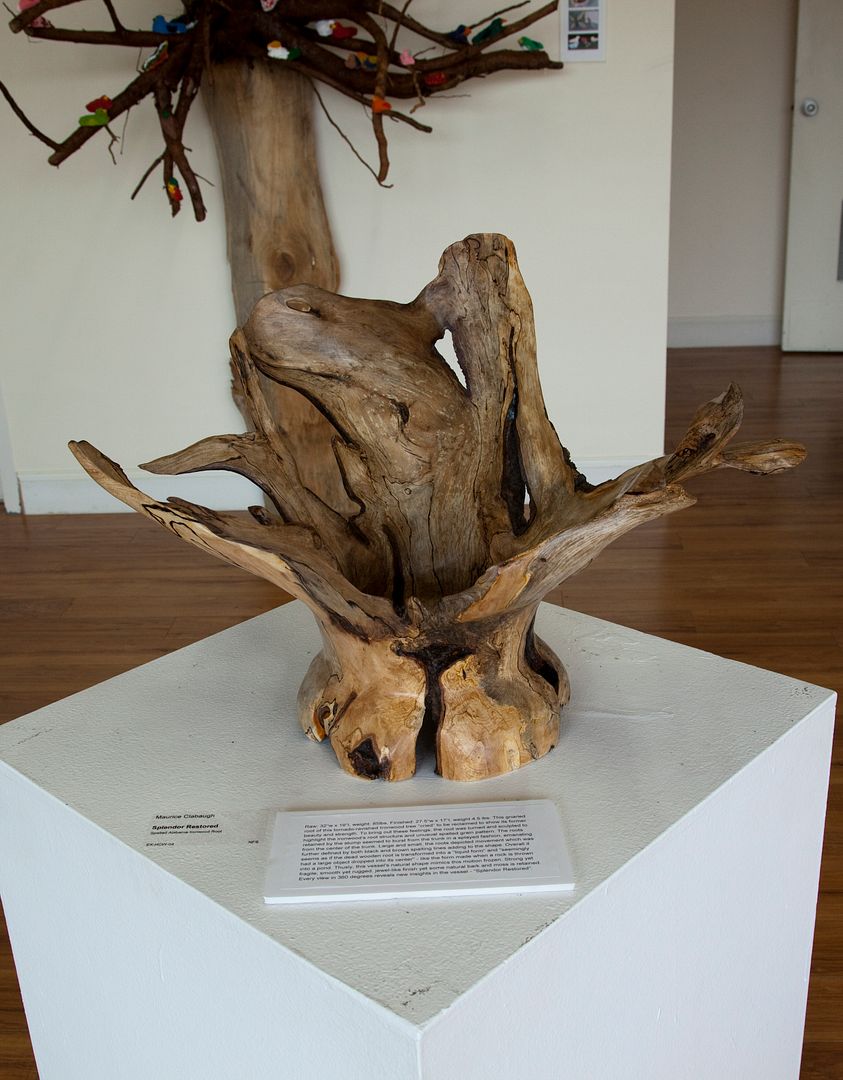 Leaving Watson's Bend we flew Eastward to the Cottondale area and into a wonderful sunrise scene.
Along Buttermilk Road, we flew over Camden Lake. I consider this to be huge success story for both the Friends of Hurricane Creek and the developer. It was once a very problematic site and cause a lot of bad will between us and the developer. After a few enforcement encounters the "Builders Group" owner decided to take a few courses in erosion control "Best Management Practices" (BMPs) His entire method of building has changed which is why I now I consider Camden Lake to be a success story.
Camden Lake 02/07/08







Mr. Corder did a good job turning this project around
Camden Lake 10/06/12
Due to the relationship we created during the Camden Lake experience I am now working with him on another project as friends.
Leaving Cottondale we headed up the interstate to Mercedes on Little Hurricane Creek but something caught my eye along the flight. Mallard Lake was covered in what looked like oil sheen.
I later looked at this from the ground and filed a complaint based on the evidence at hand. More details on the results later.
Right after we flew over Mercedes, the clouds rolled in  and cut short the mission. but not until we got a look at the dragline "Mr. Tom". Mr. Tom was considered obsolete until recent prices of coal made it feasible to renew this behemoth mountain killer.  It will be walked across Hwy 216 to tear the tops off of the mountains there for the coal underneath.
We will fly again when the weather is good to get more aerial photos of the watershed. In this way we can compare them to past photos and get an idea of our success as advocates fr Tuscaloosa's Crown Jewel, Hurricane Creek.
Sunrise over the "M" Bend of Hurricane Creek